---
---
Now Introducing Mobile Fridge Shipping
---
What benefits do the packages provide?

They were designed by engineers with the sole purpose of providing the most advanced cold chain shipping option in the industry. Even in the harshest of temperatures (hot or cold) it will still keep the temperature within a very specific range for an extended period of time (2-8 degrees).
How cold will it keep the package and for how long?
The contents will remain 2-8 degrees for a minimum of 96 hours.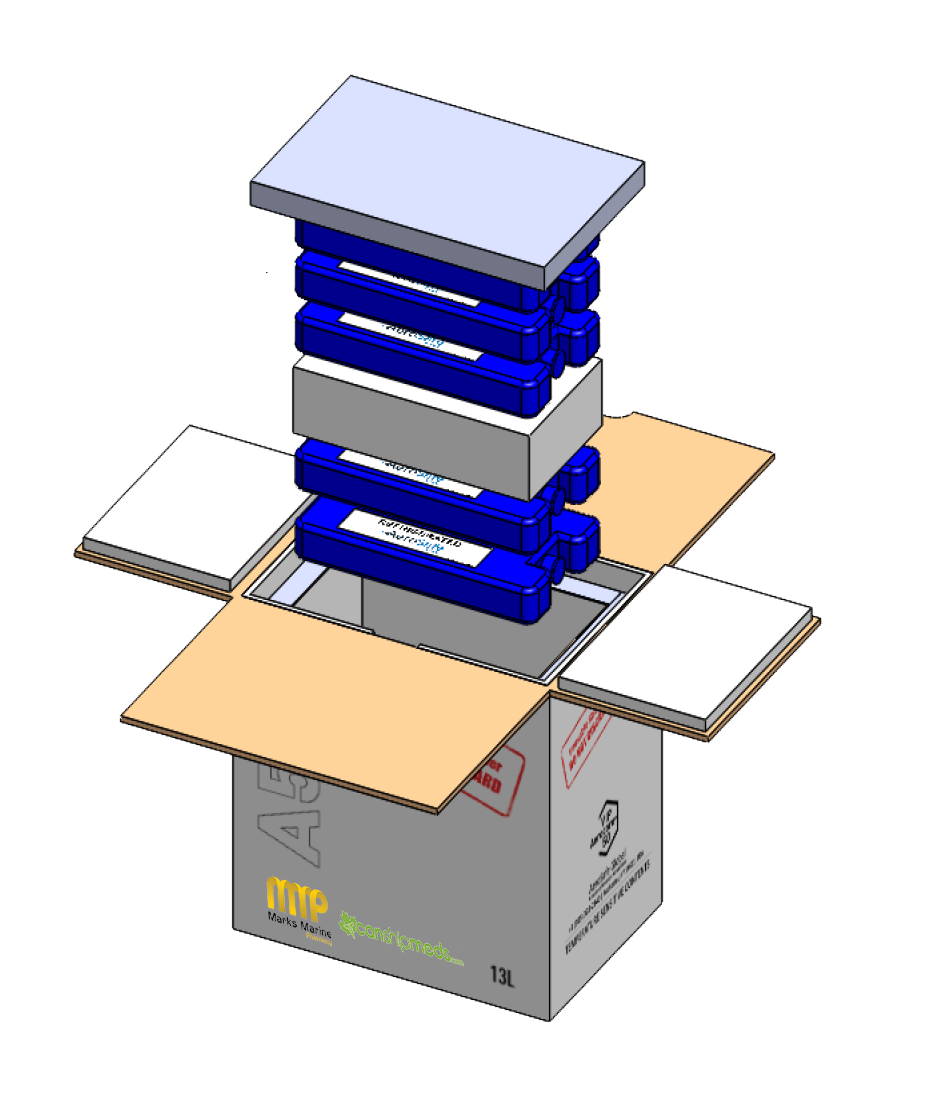 ---
Environmently Friendly Recycling
---
Yes, it is a recycling program. After we deliver to you, the package is picked up from you, it goes back to the manufacturer to sanitize, refurbish, and re-certify for future use. Simultaneously, they will also restock our Pharmacy to ensure we always have enough packages on site to cater to the extreme temperature sensitive nature of specific medications to fulfill all our customers special needs.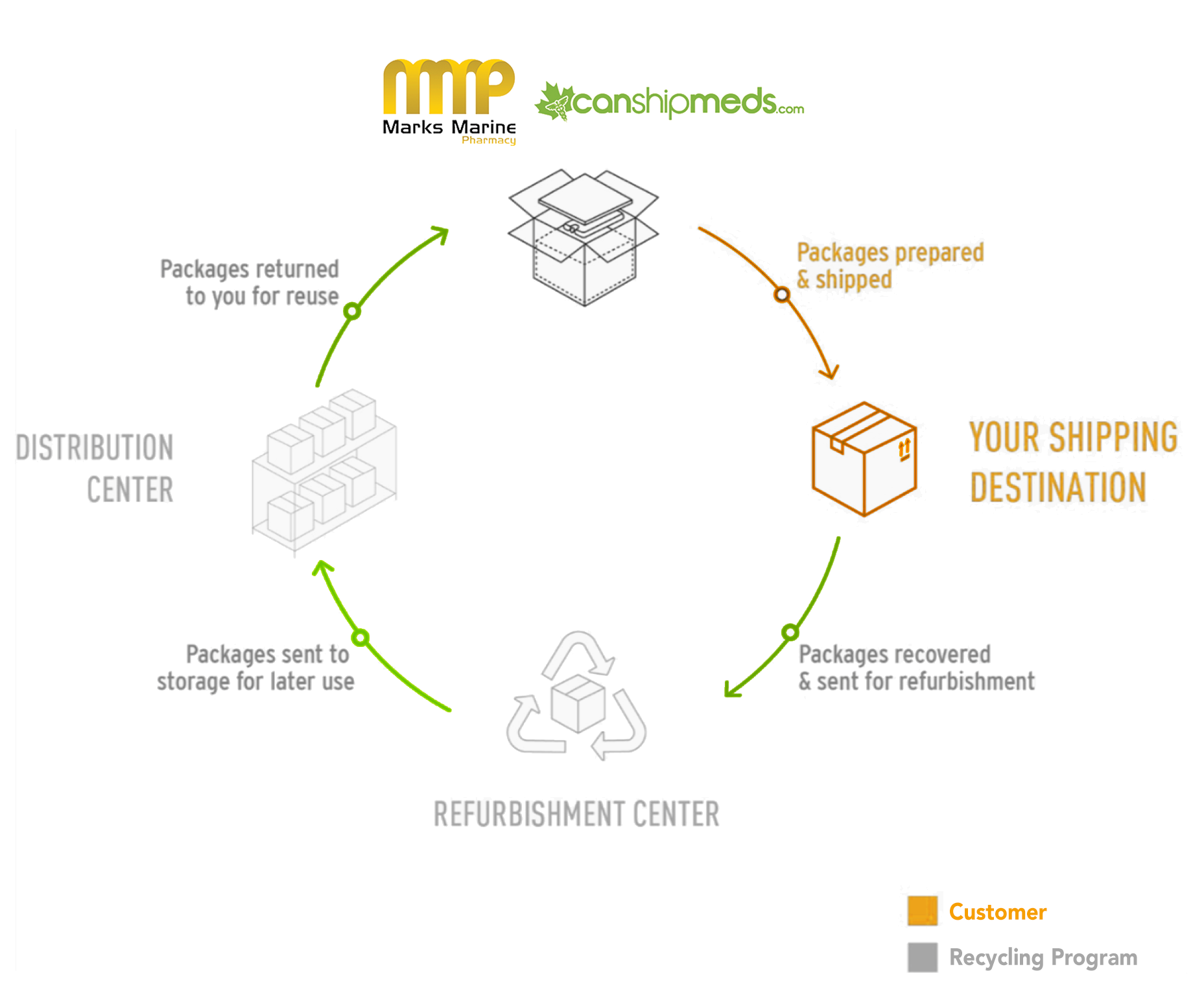 What research and proof is available?
Every batch that is sent gets fully tested and certified before it is shipped to our Pharmacy. We have a certificates of analysis for every package that we send direct to our customers to provide both us and our patients the confidence and peace if mind.
---
Take a moment to watch the video to get a deep dive into Marks Marine Pharmacy and temperature sensitive medications
---
Things to consider when ordering
---
When shipping a temperature sensitive medication it is a flat rate of $25 (includes up to $500 worth of medicine). This includes express delivery, ice-packs, thermal insulation wrapper. We also offer an upgraded Styro-Foam Box, which costs $10 extra. You may want to add extra ice packs as well for $5. We try to always offer this as an option, alternatively, you can always request for it to be used. To Provide you with a piece of mind that get your medication to your right.
We ship ALL temperature sensitive medicine by AIR Express delivery, which is sent mandatory

signature required

, properly packaged with ice-packs and insulation.
Please weigh the risks and rewards, also, the pros vs the cons and make your decision wisely. If the time is not right (peak of summer), you can purchase a small quantity locally and place your current order on hold and arrange to have it shipped when the weather is more suitable.
We do NOT encourage our customers to order temperature sensitive medicine during the hot summer months or the cold winter months.
We DO encourage our clients to order enough in spring to last the summer and enough in the fall to last the winter. Avoid ordering during the extremes of season.
We do understand that not all people can afford to do this, due to budget purposes. As a result we package the medicine with styro-foam insulation for extra protection (as an option for an extra $10).
Please check and consider your local temperature. Specifically for the week that follows the time your order as that is the time it will arrive. Please try to properly time your orders with us, as we will ship upon your request. We know the importance of this medicine, and rely on you, the consumer, to tell us the right time to ship the temperature medicine to you as all states and cities are different.
There is risk, when ordering temperature sensitive medications, and the risk is yours.
There is a very small chance something may go wrong (FDA seizure, postal error, medicine exposed to improper temperature) and we are upfront that if any of that happens it is not our responsibility.
We WILL be responsible to process and dispense the medicine quickly and properly and ship and package to the best of our abilities and provide you with all the education as a pharmacy should.
Because we sell it at a wholesale price, there is a no refund policy.
---
Before you order we do need you to fill the temperature sensitive medications form. Accepting the risks with ordering temperature sensitive medicaitons.